Today, the European Parliament adopted a motion for resolution on Prevention, management and better care of diabetes in the EU on the Occasion of World Diabetes Day. IDF Europe applauds this important step forward towards reversing the rising number of people living with diabetes (PwD), improving the management of diabetes and its complications, and addressing the inequalities and disparities in access to care and treatment in Europe.
---
If put into action, the resolution has the potential to contribute to better health outcomes for millions of EU citizens living with diabetes, as well as with non-communicable diseases (NCDs) and other conditions. IDF Europe thanks President Roberta Metsola and MEPs Mobilising for Diabetes (MMD) for their salient efforts to gather political support, increase awareness of this life-altering disease and their call for urgency to act.
Bastian Hauck, Type 1 Diabetes advocate and IDF Europe Board Member, commented: "A coherent, efficient and strong European leadership is urgently needed to adequately fill the existing gap for research and policy action on diabetes and set a blueprint for a framework for action in the Member States. This will ultimately contribute to more resilient health systems and ensure the well-being of future generations."
IDF Europe reaffirms the need for the resolution to accompany and leverage EU initiatives such as 'Healthier Together'- EU NCD initiative, Europe's Beating Cancer Plan, the European Health Data Space, as well as global commitments through the 2030 Agenda for Sustainable Development.
Dr Niti Pall, IDF Europe Chair, added: "This year is particularly important and symbolic. On the centenary of the discovery of insulin, 10 years after the first European Parliament Motion of Resolution on diabetes, we finally have the resolution that emphasizes the need for action. A lot needs to be done but this is definitely a very good start."
About diabetes:
Diabetes is characterised by its complexity and the multiplicity of its expressions and causes. It affects all genders, generations and socio-economic groups, in rural and in urban areas across the globe.
According to World Health Organisation, currently there are 14 different types of diabetes, of which Type 1 and Type 2 are the most common (the latter accounts for about 90-95% of all diabetes cases). Across the EU, 32 million adults live with diabetes today; the prevalence continues to rise and is forecast to increase to 35 million by 2030.
Today, there is no cure for diabetes, but effective treatment exists. With the right care and uninterrupted access to the appropriate treatments, tools and technologies, PwD can reduce the risk of developing complications and lead long, healthy and fulfilling lives.
There are three main types of diabetes.
Type 1 diabetes (T1D) is an autoimmune disease (whereby the immune system destroys the body's insulin-producing cells) which often emerges in children and younger adults, although it can also develop at any age. The Europe Region has one of the largest numbers of children and adolescents (0-19) with T1D in the world (around 300,000, of whom about 165,000 in the EU alone), with incidence at its highest in Finland, Sweden, Norway and Sardinia.
Type 2 diabetes (T2D) is often wrongly thought of as a self-inflicted condition, assuming that personal behavioural choices are the primary determinants of our chances of developing the condition. T2D is in fact the result of complex interactions between environmental, lifestyle, clinical and genetic factors. None of these causes are either necessary or sufficient for disease development.
Gestational diabetes is a form of diabetes consisting of high blood glucose levels during pregnancy. It develops in one in 25 pregnancies worldwide and is associated with complications in the period immediately before and after birth. Gestational diabetes places increased risk for the mother and the child to develop T2D in later life. Women with hyperglycaemia detected during pregnancy also have a higher risk of developing adverse pregnancy outcomes.
About IDF Europe
IDF Europe is the European chapter of the International Diabetes Federation (IDF). We are an umbrella organisation representing 70 national diabetes organisations in 44 countries across Europe. Our vision is to improve the lives of PwD and our mission, in Europe, is to unite the voice of PwD and to engage all stakeholders in creating a person-centred diabetes ecosystem. The resolution has the support of the united diabetes community. We want to thank our partners: European Association for the Study of Diabetes (EASD), European Diabetes Forum (EUDF), European Foundation for the Study of Diabetes (EFSD), Foundation of European Nurses in Diabetes (FEND), International Society for Pediatric and Adolescent Diabetes (ISPAD), Juvenile Diabetes Research Foundation (JDRF), Primary Care Diabetes Europe (PCDE), Société Francophone du Diabète (SFD).
About MMD group
The MEP Interest Group on Diabetes – MEPs Mobilising for Diabetes (MMD) – was established in November 2020, and continues the work of the EU Diabetes Group. It aims to represent the interests of PwD, their relatives and carers, as well as those at risk. Under Co-Chairs, MEP Sirpa Pietikäinen and MEP Christel Schaldemose, MMD members work to elevate diabetes on the public agenda and foster key policy changes in Europe. We would like to thank all the supporting MEPs: Tomasz Frankowski (EPP, Poland), Romana Jerković (S&D, Croatia), Kateřina Konečná (the Left, Czech Republic), Marisa Matias (the Left, Portugal), Tilly Metz (Greens, Luxembourg), Sirpa Pietikäinen (EPP, Finland), Frédérique Ries (Renew, Belgium), Christel Schaldemose (S&D, Denmark), Tomislav Sokol (EPP, Croatia), István Ujhelyi (S&D, Hungary).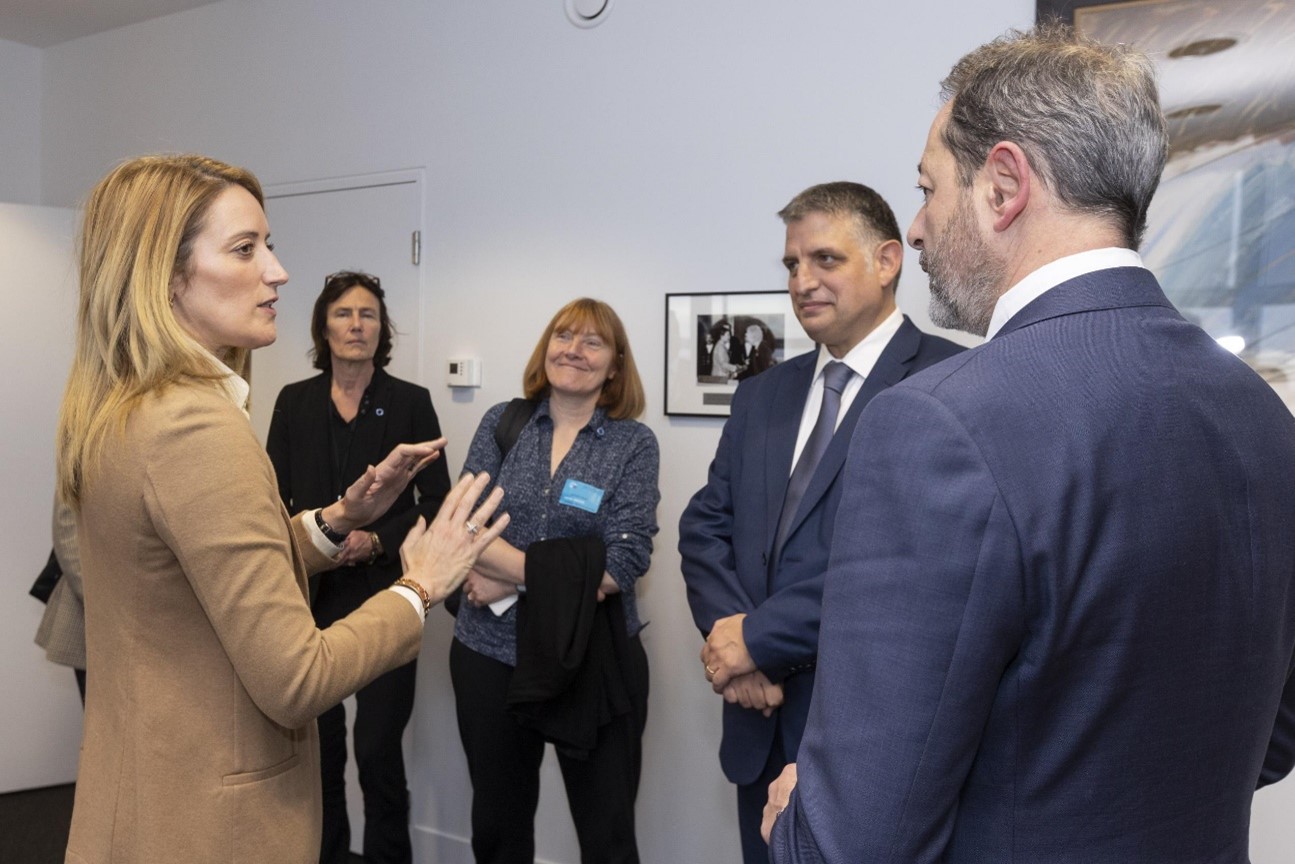 President Roberta Metsola meets diabetes stakeholders ahead of the European Parliament debate on the 'Prevention, management and better care of diabetes in the EU'.
From left to right:
Roberta Metsola, President of the European Parliament
Elisabeth Dupont, Regional Manager, International Diabetes Federation (IDF) Europe
Sabine Dupont, Senior Policy Consultant, International Diabetes Federation (IDF) Europe
Chris Delicata, President, Maltese Diabetes Association
Alessandro Chiocchetti, appointed Secretary General of the European Parliament
---
Find the text of the Resolution in your language here:
We thank our partners, Air Liquide, Boehringer Ingelheim and Lilly Diabetes for their support to IDF Europe World Diabetes Day events and to our call for a new European Parliament Diabetes Resolution.