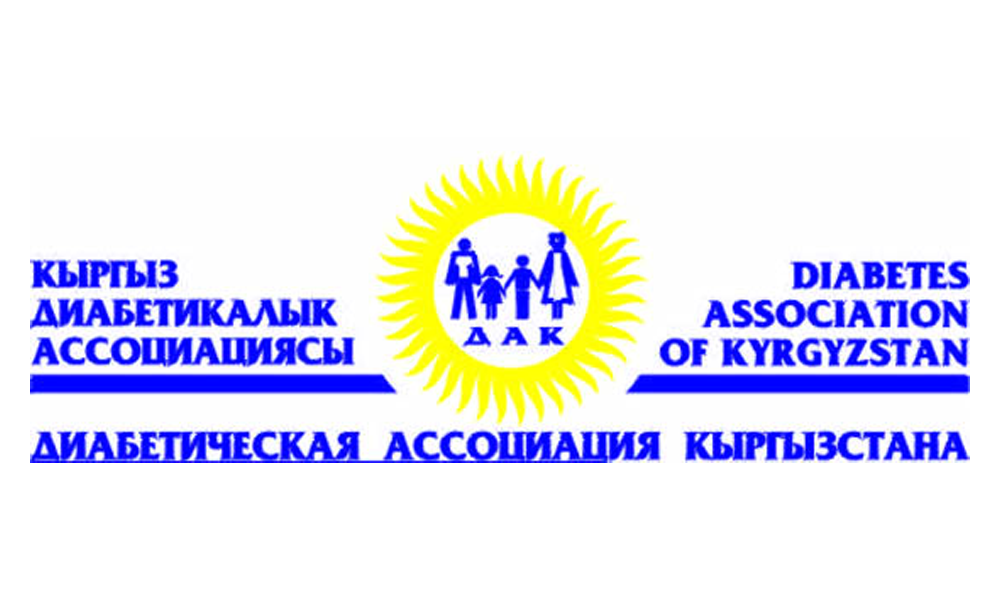 Address
199 Panfilov Str, Bishkek, 720040, Kyrgyzstan
About
The Diabetes and Endocrinological Association of Kyrgyzstan (DEAK) is a national non-governmental organization working in field of diabetes, established in May 1998. DEAK has  regional branches all over the country.
It is member of the International Diabetes Federation (IDF) since 2000, after having been officially accepted at the 7th World Diabetes Congress in Mexico.
Main Focus
Supporting and representing the interests of people with diabetes and increasing their quality of life
Raising awareness about the increasing problem of diabetes in the Kyrgyz population
Providing education and research in the field of diabetes
Activities
Every year, DEAK holds conferences and seminars for doctors and endocrinologists.
DEAK has organised national screenings for type 2 diabetes, testing more than 10,000 people throughout the country.
All people with diabetes in Kyrgyzstan are provided with insulin, syringes and devices for insulin administration free of charge by the state guarantee programme. The insulin is bought through tenders and subsequently distributed to people with diabetes. Representatives of DEAK and its affiliates participate on the tender commission of the Health Ministry.
DEAK marks World Diabetes Day every year since it was started in 1991. As part of its activities, all people with risk factors for type 2 diabetes can get their blood glucose tested free of charge.
DEAK has been cooperating with the German charitable organization «Kinderhilfe» since 1999. Thanks to this co-operation, all children and adolescents with type 1 diabetes are provided with glucometers and test-strips.
DEAK organises a variety of activities for children and adolescents with diabetes throughout the year. These include the celebration of the New Year and International Children's Day,  excursions to the mountains in summer and winter and diabetes camps in the summer.
Kindergarten called "The little bee" for children with type 1 diabetes. This consists of a daily diabetes school for young people with diabetes.
Publications & Newsletters
DEAK has published guidelines on diabetes for specialists and booklets about diabetes for people living with the condition.
DEAK published a quarterly magazine – "Diabetes.kg" – for people with diabetes and health professionals.
Message from the President
"DEAK became a member of IDF  to be part of the diabetes community, because together – we are stronger! We also joined to learn from other associations how they protect the rights and promote the interests of people with diabetes. Joining IDF has given us new opportunities for the organization of our work and helped us promote the adoption of the "Law of diabetes in Kyrgyz Republic".