Decentralising Clinincal Trials: Improving Efficacy and Effectiveness
Duration: 2019-2024
Funded by: Innovative Medicines Initiative 2
IDF Europe is part of an international consortium of 31 members which has received Innovative Medicines Initiative 2 funding, to map developments in the field of Remote Decentralised Clinical Trials (RDCTs), and to test different variants to arrive at concrete and practical recommendations to promote the widespread acceptance and implementation of RDCTs across Europe. This Euro40-million research project will run for a total of five years.
Traditionally, a participant taking part in a clinical trial has to go to a clinical trial centre regularly for face-to-face evaluation. By harnessing new technologies and transferring the trial activities to the participant›s home or immediate surroundings, a trial can be less burdensome for them and produce results that can be better translated into daily practice. The consortium will develop and test remote decentralised methods to streamline data collection, participant recruitment and retention. At the same time, it will ensure the participation of a greater number of volunteers that are more representative of the population at large. By augmenting face-to-face interaction with remote procedures, larger geographic regions will be accessible to foster the participation of unrepresented relevant populations.
IDF Europe Patient Expert Panel
Within the project, IDF Europe has established a Patient Expert Panel (PEP) to facilitate the engagement of people living with diabetes (PwD) and to ensure that their experiences, needs and preferences are heard. The PEP has, for example, contributed to the development of an inclusive informed consent process and of a communication and messaging framework; has reviewed training materials for people in the trial; and has participated in various outreach activities.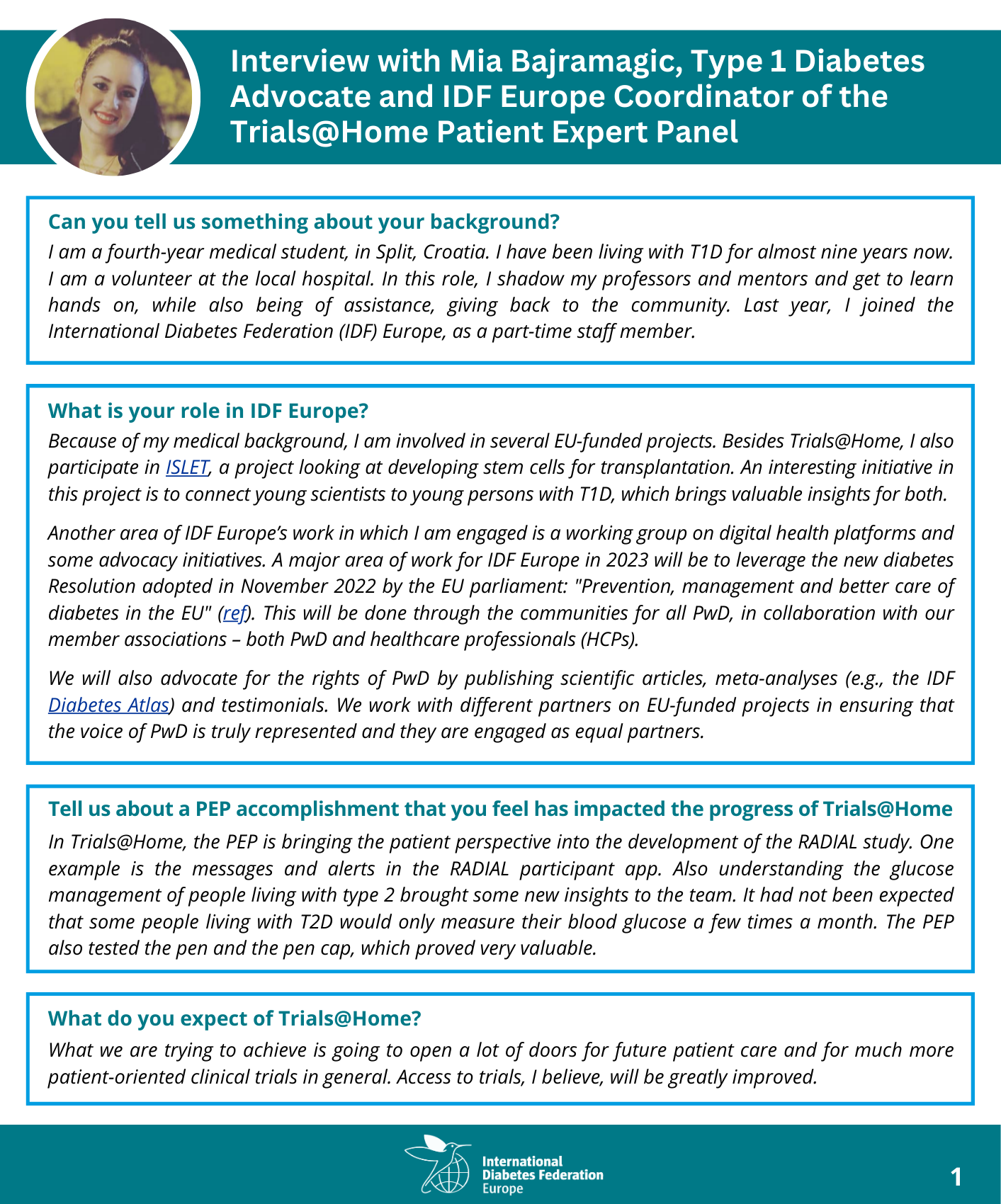 Interview with IDF Europe Project Coordinator, Mia Bajramagic
Mia Bajramagic, type 1 diabetes (T1D) advocate and IDF Europe Project Coordinator answered some questions about the role of IDF Europe and the PEP in the project.
Read the interview
---
The research leading to these results has received support from the EU/EFPIA Innovative Medicines Initiative [2] Joint Undertaking (H2020-JTI-IMI2) Trials@Home grant n° 831458.