People living with diabetes have an increased risk of developing diabetes complications. The most common are those that affect the heart, blood vessels, eyes, kidneys, nerves, teeth and gums. 
In high-income countries, diabetes is a leading cause of cardiovascular disease, blindness, kidney failure and lower limb amputation. Managing blood glucose, blood pressure and cholesterol levels can delay or prevent complications. Regular monitoring of these signs is therefore essential for people with diabetes.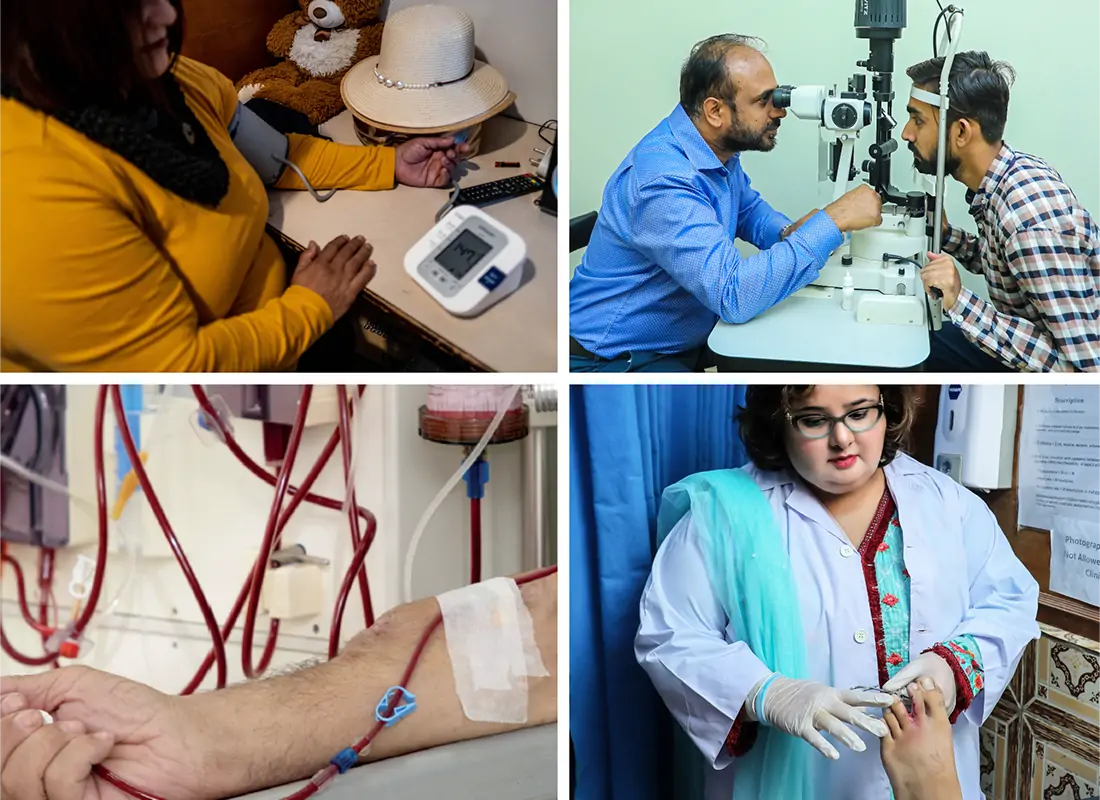 People living with diabetes are up to three times more likely to develop cardiovascular disease.
1 in 3 people with diabetes will develop some form of vision loss during their lifetime.
Kidney failure is 10 times more common in people with diabetes.
A lower limb is lost to diabetes somewhere in the world every 30 seconds.
Cardiovascular disease (CVD) affects the heart and blood vessels causing fatal complications such as heart attack and stroke. CVD is the most common cause of death in people with diabetes. Risk factors including high blood pressure, high cholesterol and high blood glucose increase the risk of cardiovascular complications. Learn more about CVD.
Eye disease (diabetic retinopathy) affects many people with diabetes, causing vision loss that can lead to blindness. High blood glucose, blood pressure and cholesterol levels are the leading causes of diabetic retinopathy. Regular eye checks and maintaining normal glucose and lipid levels can help manage this condition.
Kidney disease (diabetic nephropathy) is caused by damage to small blood vessels in the kidneys, leading to inefficient kidney function or failure. It is more prevalent in people with diabetes. Maintaining normal blood glucose and blood pressure levels can significantly decrease the risk of kidney disease.
NAFLD/NASH Non-alcoholic fatty liver disease (NAFLD) is linked to obesity and the risk of developing type 2 diabetes. NAFLD occurs when excess fat builds up in the liver. This can progress to non-alcoholic steatohepatitis (NASH), which causes inflammation and liver damage.
Nerve disease (diabetic neuropathy) damages nerves due to high blood glucose and pressure. It affects digestion, erectile function, and extremities, particularly the feet. Peripheral neuropathy can cause pain, tingling, and loss of feeling, leading to infections and amputations. People with diabetes have a higher risk of lower limb amputation. However, comprehensive management and regular foot examinations can prevent this.
Oral complications caused by diabetes increase the risk of gum inflammation (periodontitis), a major cause of tooth loss. Periodontitis is also linked to an increased risk of cardiovascular disease. Regular oral check-ups help detect the condition and undiagnosed diabetes, aiding the timely management of oral complications. Annual visits are recommended for symptoms of gum disease, such as bleeding and swelling.
Diabetes during pregnancy can cause complications and risks to the foetus if not managed carefully. Women with type 1 and type 2 diabetes should achieve target glucose levels before conception to prevent possible foetal organ damage. High blood glucose can lead to excess foetal weight and complications during delivery and increase the risk of the child developing diabetes in the future. All women with diabetes during pregnancy should strive for target blood glucose levels to minimise complications.
Diabetes and CVD resources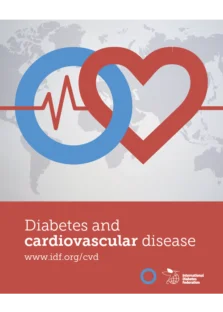 Report
Diabetes and Cardiovascular Disease Report
Published in 2016, this report presents a clear summary of the problem of measuring cardiovascular disease in people with diabetes, as well as real-world solutions. It aims to facilitate evidenced-based decision making and encourage collaboration between different sectors.
attachments-39.pdf
pdf

22MB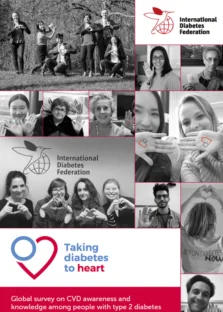 Report
Taking Diabetes to Heart Report
Taking Diabetes to Heart was a multi-country study, developed by IDF in partnership with Novo Nordisk, focused on CVD awareness and knowledge among people living with type 2 diabetes. It's aim was to define the actions required to promote knowledge and awareness of CVD to improve health outcomes and address systemic challenges to healthcare systems.
attachments-45.pdf
pdf

6MB
Diabetes and eye health resources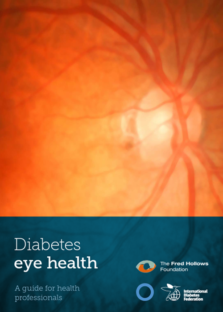 Report
Diabetes Eye Health: A guide for health professionals
Guide developed by the International Diabetes Federation and the Fred Hollows Foundation that builds upon the ICO Guidelines for Diabetic Eye Care. This guide encourages and facilitates good diabetes management, early diagnosis and treatment of diabetic eye disease, as well encouraging integration and cooperation across the health system.
attachments-46.pdf
pdf

4MB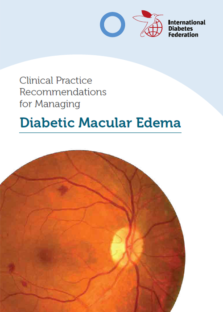 Guideline
IDF Clinical Practice Recommendations for Managing DME
Diabetic Macular Edema (DME) is a potential complication of diabetic retinopathy that currently affects more than 28 million people with diabetes. These Clinical Practice Recommendations are intended to facilitate the work of general practitioners, hospital physicians, and other clinicians working in diabetes-related eye disease management.
Clinical Practice Recommendations for Managing DME
pdf

408KB
Diabetes and kidney resources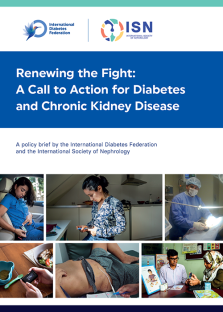 Diabetes and foot resources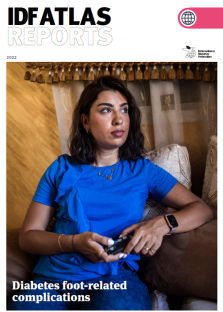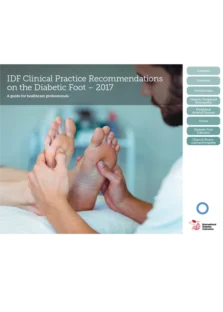 Guideline
IDF Clinical Practice Recommendations on the Diabetic Foot 2017
Simplified and easy to digest guidelines for health professionals, aimed at prioritising early intervention in the diabetic foot with a sense of urgency through education.
attachments-61.pdf
pdf

6MB
Diabetes and pregnancy resources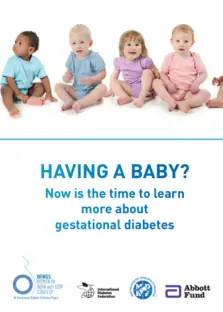 Guideline
Having a baby? Now is the time to learn more about gestational diabetes
An educational manual with information and advice on having a healthy baby.
attachments-59.pdf
pdf

1MB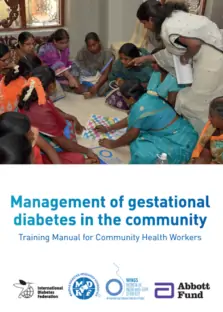 Guideline
Management of gestational diabetes in the community
A training manual for community health workers, developed as part of the IDF Women in India with GDM Strategy (WINGS).
attachments-58.pdf
pdf

1,017KB