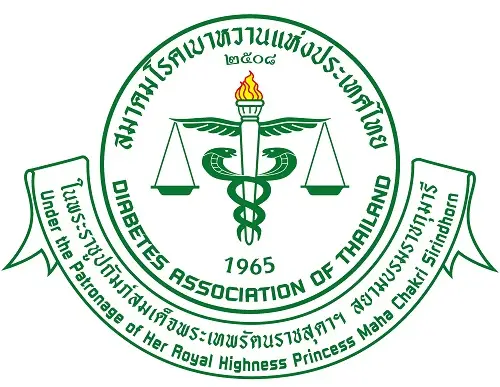 Address
Royal Golden Jubilee Building, Floor 10, 2 Soi Petchburi 47, Petchburi Road, Bangkapi, HuayKwang, 10310 Bangkok, Thailand
About
Diabetes Association of Thailand was established in 1965. Initially the work included education for public and healthcare personnel on diabetes care and treatment. Since 1980 partial support for research was granted. The association participated in six diabetes survey studies. There had been occasional scientific meetings until 2007, when the annual scientific meeting was started.
Main Focus
To serve as an up to date and trustworthy source of knowledge for healthcare professionals and a conduit for disseminating information to the general public
To support development of new knowledge and innovations related to the management of diabetes.
To promote healthcare professionals' knowledge and skills for improving standards of diabetes prevention and care
To improve patient's access to diabetes treatment
To publicize the work of the association to public and gain public trust
To co-operate with the relevant national and international bodies in organization of activities related to diabetes awareness and care
Publications & Newsletters
The Diabetes Bulletins has been published semi-annually. Periodic publications included Review of Diabetes Situation in Thailand, Handbook on Diabetes Education for Self Management, Healthy Diet for Diabetic Patients and others.
Message from the President
Mrs Wannee Nitiyanant "As a member of IDF, has given me an opportunity to exchange ideas and new insights for moving the society. The inspiration of global movement on diabetes urged me to work locally with confidence. It has been a great pleasure to see development and improvement on diabetes prevention and care in the country. Joining World Diabetes Day campaign activity each year certainly stimulates interest and awareness of the public on burden of diabetes. Hopefully, the national standard for prevention and care of diabetes will soon be implemented nationwide."