La Federación Internacional de Diabetes (FID), Región SACA se complace en compartir la Guía de Práctica Clínica de Educación en Diabetes.
Esta guía es el resultado del trabajo articulado de la Región SACA y de profesionales especializados en educación en diabetes de los países de América Latina y el mundo.
La Guía está desarrollada con dos grandes objetivos:
Sistematizar prácticas educativas basadas en evidencia, para promover, conservar y recuperar la salud de las personas con diabetes mellitus tipo 1, tipo 2, y gestacional, con el propósito de reducir y minimizar complicaciones agudas y crónicas que podrían presentarse, permitiéndoles mejorar su calidad de vida
Establecer contenidos básicos que debe abarcar un programa de educación dirigido a personas con diabetes.
La Guía está dirigida a profesionales de la salud y tiene varios contenidos prácticos, que sin duda serán de gran utilidad al momento de tratar y educar a personas con diabetes y lograr mejores resultados en su tratamiento.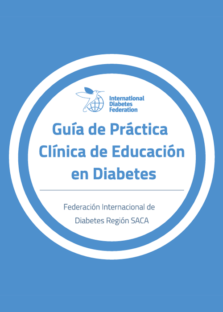 Guideline
IDF SACA Clinical Practice Guideline on Diabetes Education
Produced by the IDF South and Central America (SACA) Region with the aim of standardising evidence-based educational practices to improve the health and well-being of people with diabetes.
attachments-64.pdf
pdf

2MB